Okabena – How It All Began – First Half-Century

The Indian uprisings and Belmont Massacre of 1862 generally depopulated Jackson County. With the end of the Civil War and the end of the Indian scares, settlers once more came back. Population increased rapidly in the next decade and settlers began to push into the west half of the county, including this region.
"Born in Adversity" certainly describes our township. The years 1873 to 1976 are synonymous with hardship and suffering: grasshopper plagues, crop failures, blizzards, financial panic. Yet during this period, undaunted settlers entered our township. Among early pioneers, most of whom took homesteads and tree claims were: Claus Larson, Andrew L. Jackson, Christen Isakson, John Christy, Sever Severson, Andrew Serum, Ole Hanson, Halvor Hendrickson, Nils Olson, Karl Tollefson and others.These hardy pioneers were staking their claims and building their farm places at the time when Jackson County residents were in dire straits. Petitions were pouring into St. Paul from stricken counties asking for aid. Relief committees were appointed to distribute flour, clothing and food. Some people were actually in starving condition.
In 1874, 714lbs of flour and 74lbs of pork were given to the needy in West Heron Lake Township. In the midst of these calamitous times, in the latter part of 1873, the county board was petitioned for creation of West Heron Lake Township.  The petition was granted on January 7, 1874.The first town meeting was held at the home of Matt Tollefson on January 24th of that year with D. F. Cleveland serving as chairman and Matt Tollefson as moderator. These two, with Issac Christy served as election judges and Henry Knudsen was clerk. Election followed, with Robert Johnson chosen as chairman, John Christy as clerk, and John Tollefson, treasurer.Another meeting followed on March 10th and officers were elected for full terms. The minutes of the first meeting were preserved. It was voted to restrain cattle, horses, mules, sheep and other domesticated animals from running at large.
Poundmasters were elected and the pounds were to be located at the respective homesteads. A five mill tax was levied for township purposes. On a piece of toilet paper is the first tax schedule as worked out by the board, with a list of fourteen names. Most of the quarter sections were valued at $624.00 and the real estate tax at $3.12. The officials were careful to vote only necessary taxes, so much so, that the township treasury was usually at a minimum or with an overdraft.Too much credit cannot be given to these early officials.  They were given the task of laying out roads, providing bridges, levying taxes and assessing road work. 
One township ordinance, for example, controlled the number and method of driving livestock over a township bridge, so there would be no chance of collapse!The census of 1875 shows us that a total population of 117 and the acreage of sown crops as 759.  By 1880, the population had decreased to 96, reflecting the difficult times. Presumably many abandoned their farms and headed elsewhere.
Five years later, the population was still at the same figure. By 1895 however, the population was over 2.5 times the previous census. West Heron Lake Township grew much more slowly than most townships. There are two possible explanations for the slow growth: 1. The area was farther away from established centers and transportation facilities were missing. 2. Much more important, our township was the flattest in the entire county, being low lying with many sloughs and pot holes.
While the soil was as fine as any in Minnesota, it required good drainage. The potential was not realized until the development of county ditches and tiles and the individual tiling out of each farm. Extensive drainage took place a few years before and during World War I.  For those unable to comprehend a picture of the countryside in the 1870's a drive through the township after a torrential rain of six to ten inches gives one an idea of what it was like years ago as far as water was concerned.
Two events undoubtedly had an important bearing on development of our township and village. The first was the completion of the Sioux City and St. Paul (Omaha) Railroad and the founding of Heron Lake in 1871. A closer market and a source of supplies hastened the settlement of pioneers in this area.The second event, likewise a railroad, was the completion of the Southern Minnesota (now Milwaukee) to Prairie Junction in August of 1879.  It is not known whether the sidetracks were put in Okabena before or after the completion of the main line to Miloma.  Both railroads were engaged in a contest to see who would be the first to tap the country to the west. Thus we have two lines built, running parallel to each other, Dundee and Kinbrae, for example, were only a mile apart.

We do know that a grain warehouse (or flat house, as it was called) was built in Okabena that same fall of 1879.
Okabena Settlement
In February of 1880 a post office was established with Mr. K. C. Jackson as postmaster. According to interviews with Mrs. Sam Dahl in the late 40's, the Christy family homestead was what we now know as the Van Dam farm. Andrew L. Jackson had a place adjoining, and according to Mrs. Dahl, the two families were related. Whether K. C. Jackson was from that family we do not know and have been unable to determine. Mr. Jackson, at the urging of the first grain buyer, Mr. Logue, opened a small store in November of 1880, which he conducted until 1884. We assume there were living quarters in connection with the store.
We came up with two different theories as to where the post office and store were located. Interviews with old timers place a building "south of the railroad tracks in the vicinity of the west end of the later Sontag Lumber Company building". It was agreed that this was the oldest building in town, and later became a part of the Theodore Milbrath dwelling. We do know that later this was the dwelling of Rushes Miller and family, he being the first resident grain buyer in the village. Since this was located on the railroad right-of-way there are no legal records to check and we assume that it was a case of "squatter sovereignty".
This thought is bolstered by the fact that Mr. Schumacher platted the town, he obtained a quit-claim deed from the Rushes Miller to clear title.The second theory places the post office in quite a different spot. In a photostat copy of Mr. Jackson's application for a post office in 1879, the site is described as "north of the railroad tracks". This would no doubt place it in the farmstead where the Scheppmann Company is now located. This must have been one of the earlier homesteads in the area, as the old timers speak of the "grove". Everything else was wide open prairie and it seems logical that a post office would be placed here at least for some protection from the elements.
The Flat House was operated for a few years from Heron Lake. This and the store formed a nucleus about which were a cluster of farm buildings within fairly close range: The Christy, Schumacher and Tollefson places. No doubt the Flat House and store became a gathering place for settlers in this region.It is not civic pride that leads us to accept 1879, as the date of the founding of what we call the Okabena settlement. From a study of early newspapers it is apparent that Okabena was accepted early as a fledgling town.
As early as October, 1880, the Jackson County Republican carried a spasmodic column entitled "Okabena and suburban times". Lakefield papers likewise carried Okabena news. Early Heron Lake papers rarely mentioned Okabena, preferring to call these people "West Heron Lake residents" or "south of town". Probably this was due to the intense rivalry between the towns on the two railroads. Jackson and Heron Lake papers, for example, each carried news columns of the other town and nearby points.
The German Migration
In a book, one might have a chapter entitled "the Germans Come – and the Scandinavians leave." And that is what happened. In the 1890's came what can be called the "Illinois Migration". Mr. and Mrs. Christ Ahrens came here from Will County, Illinois in 1889, and settled on the Fitch farm, 1 1/2 miles south of Okabena. In the same year came the George Mundt and Fritz Sievert families. In the following year the Frank Atz family and in 1892, Fritz Becker and Fritz Ruthenbeck were added to the list of German immigrants to this vicinity. Others followed shortly thereafter.Due to its proximity with our neighbor to the north, Okabena was in the shadow of Heron Lake's sun for many years.
When one reads of that booming town in the 70's and 80's you wonder why Okabena did not entirely decline and disappear. The answer is fairly obvious. Our original settlers were bound by close nationalistic ties to their brethren in Heron Lake. Many attended church there, even though for a time the Norwegian church was split into to synods. From tracing families we know that many settlers had relatives in the Heron Lake vicinity. They later moved there or to the Storden-Westbrook area.When the "Illinois" migration started these people of German extraction had no ties with our neighboring town. Fritz Ruthenbeck donated an acre of ground south of Okabena (site of the cemetery) in 1895, and the same year a church was erected and dedicated there. Thus, with a church as a center, the other organizations established, the nucleus for a community was firmly entrenched.
Another early pioneer family directly connected with the founding of the town of Okabena was that of Henry and Caroline Schumacher. An immigrant from Germany, Mr. Schumacher first settled in New Ulm. Here he married and engaged in farming until 1872, when he came to Jackson County taking a homestead and a tree farm in Alba township, the present farm of George Aden. One son Will, resided at home until 1892, when he married Bessie Severson. In that same year he purchased the NW 1/4 of section 7, directly east of the home farm.
Okabena Surveyed and the Town Founded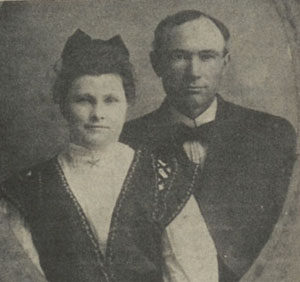 Henry J. & Sarah Schumacher, Founders of
Okabena (Photo from Okabena Centennial Edition)
Another Schumacher son, Henry J., built a two story frame building on the lot where the bowling alley is now located, in 1892. After his marriage the same year, he and his wife, Sarah, used the second floor as living quarters. In 1894, he rented the store to Charles Fletcher, who operated a combination dry goods and grocery store. The post office was located on the upper floor with Mr. Schumacher serving as postmaster.Two years later the building was destroyed by fire and the Schumacher's according to Sarah, in a letter, "built a temporary shack for living quarters." The April 28, 1892, issue of the Jackson County Pilot carried the following story: "A Townsite is to be platted at Okabena this spring. No doubt we shall see a great city there some day. Such enterprise is liable to bust the commercial business of its neighbor Prairie Junction."
The survey was made that year but not recorded for 5 years or until 1897. This is a little puzzling until one studies the chain of title on the 80 acres. Evidently the property had been purchased on a contract for deed from Mr. A. H. Fletcher. However, according to the abstracts, Mr. Fletcher was also a contract purchaser from someone who had purchased the railroad land. So, Mr. Schumacher was a little previous in platting the townsite, as neither he nor Mr. Fletcher would have been able to give a warranty deed to any lots. Also, after the fire destroyed the original frame building there was a law suit which eventually reached the State Supreme Court. At the time it was referred to as a "landmark case". Possibly it involved the proceeds of the fire insurance and an unusual situation involving  the original owner, town contract purchasers and a tenant.
Looking back, one wonders what would have happened if the whole matter hadn't been resolved. There would have been no town at this site. But it was all resolved in a logical way. In 1895, Mr. Fletcher obtained a deed and the following year paid off a mortgage. In 1897, Mr. Fletcher gave a deed to Mr. Schumacher for a consideration of $3,000.00 for the 80 acres, taking back a mortgage in the amount of $2,500.00. This covered the SE1/4NE1/4 and the NE1/4SE1/4 of section 7-103-37 except the railroad right-of-way, a site reserved for a school house (three lots – including where the Mikelson home was built), Lot 3 in block 1 which is believed to have been already purchased by John Wey, and lots 11, 12 and 13 of block 2 which would include the site of the Schumacher building and two adjoining lots.
Then, the rather unusual arrangement to clear selling of the lot:  "In case of sale of any lot or lots, 2nd party (Fletcher) agrees to release and satisfy the mortgage as to said lot or lots sold, upon receipt of the selling price of the same, which shall be the fair value of the lots sold".  Thus the machinery was set in motion to proceed with the platting, and Mrs. Schumacher in a letter written long ago said, "Mr. Schumacher took a trip to Jackson in a surrey and a team of brown driving horses, to have the lots recorded so we could sell and give deeds to the lots". Thus the stage was set for town development. The plat consisted of six blocks located on the north side of the railroad: East and West streets were named Jackson, Exchange and Market, those North and South were called Front, Minnesota, Grove and Okabena.
Boom Times
The years 1897 and 1898 saw a building boom, although the residents claim is was not a boom, but good healthy growth. The Schumacher's built an 18 room hotel with the post office being in the front of the building. Professor Brown of Heron Lake erected a two story, brick building, still standing as the front part of the bowling alley. It was constructed of bricks made by hand from kiln dried from the local clay deposits. According to the Jackson County Times of May 22, 1897, a Brick and Tile Co. was formed that year, with a John Nelson of Ponca, Nebraska in charge.  Little is known of this enterprise.
Business (1899)
The June 22, 1899 issue of the Heron Lake News devotes one full page to Okabena including pictures of various commercial establishments.
Sam Dahl (1899)
Sam Dahl, a former resident of Heron Lake, had a complete line of general merchandise located in a handsome store building where he was prepared to furnish you with groceries, hats, caps, boots, clothing, dress goods and, in fact, almost anything that entered into the household. Mr. Dahl was a good businessman, kept a clean stock which he sold at reasonable prices and, as a consequence, enjoyed a large trade, which  steadily increased. His store was up to date in all its appointments. He was also postmaster and handled Uncle Sam's Mail in a manner which gave general satisfaction. His store was also the central office for the Fairmont Telephone line.
Henry Peterson (1899)
Henry Peterson  opened a harness repair shop, where he carried a very complete stock of harnesses, horse furnishings and as he was a competent harness-maker, he could make  repairs in the best possible manner.  He had the goods settlers wanted and could supply them at reasonable prices.
Okabena Creamery (1899)
The Okabena Creamery was established in 1898 by the Okabena Dairy Association and was composed of a number of West Heron Lake and Alba township farmers. This enterprise was a success from its first churning and daily increased the amount of milk received. The officers were: President, H. W. Ahrens; Secretary and Manager, W. H. Nairn; and  Treasurer, John L. Gessell. The butter making was done by J. F. Miller, an experienced man, whose ability was shown by the fact that his butter always commanded top notch prices in every community.
Hotel (1899)
This building, put up for accommodation of the public, was neatly fitted and furnished throughout, and the meals served were excellent samples of the culinary art.
A. S. Hyde & Co. (1899)
The new elevator was modern in all appurtenances. Their local buyer was F. W. Delong, who was one of Okabena's most popular young men, in consequence of which he managed to get his share of the grain market here.
St. Johns Bros. (1899)
St. Johns Bros. were the first to recognize the importance of Okabena as a grain delivery point and purchased and remodeled the old grain shed which early had done duty in this line, making it a handsome and commodious elevator. Their local buyer was J. B. Nimerfroh, who was a jovial good fellow, well liked by all the farmers.
McGlin Bros. (1899)
This company was under the management of J. B. Nimerfroh. They carried a complete line of lumber, lath, shingles, cement, and building paper. They operated a first class lumberyard and were pleased to estimate your bill of lumber.
D. H. Peffer (1899)
D. H. Peffer was a first class blacksmith, who was known to all  as a No.1 workman. Mr. Peffer had a blacksmith and repair shop here, and was prepared to do all kinds of work, repairing and horseshoeing at reasonable prices.
Dan was formally located at Heron Lake and his work  stood the test of time.
Wheeler and Dushinski (1899)
Wheeler and Dushinski were new comers to Okabena, but  opened a very complete stock of hardware and tin ware and  enjoyed a good trade. Both were practical tinners and were prepared to promptly do any work in their line or in the line of pump repairing when they were called upon to do so.
They were very pleasing gentlemen to do business with and were a decided acquisition to the business interests of the town.
(Footnote – This firm departed from Okabena soon after and started a business in a town east of Fairmont.)
General Okabena History Continues
Mr. Schumacher was proprietor of the town site and  offered reasonable inducements to businessmen who desired to locate in this growing and thriving town.
Residents and business lots were for sale at reasonable prices. There was room for enterprising businessmen, several lines remaining unsupplied. Okabena had a good future before it, and persons looking for a location would do well to investigate this field before going further.
They have good railroad facilities, a good school and are surrounded by a good and rapidly increasing farm community, leaving no good reason why the town should not prosper.
In addition to the business houses mentioned and illustrated there were a number of good residents and this class of building  increased as the town grew in importance.
J. H. Wey  completed  a nice store building located just north of the hardware store, which he stocked with a line of groceries and where he was  pleased to meet everyone. The old building, formerly occupied by him, was moved back and will be used as a dwelling.
The building housing the hardware store was probably built by Knute Christy, partly from the material from the old hay shed he had purchased.  Later he built another store building on the east side of the street, it housing various stores over the years, including the Art Manuel Produce and for a time, Paulson's store.  It is not certain how long Mr. Wey ran his store mentioned above or whether he did.  According to the interview, with Mrs. Dahl, his store building was located next to their house, in what we called the Creamery house, owned by Emma Gehrls.  She said that the structure served both as a store and a dwelling.
It is known that the blacksmith shop run by Dan Peffer was built by Henry Schumacher in 1895, it is not known where it was located.  Years ago there was a tumbled down shack set in a midst of brambles, that is now part of the Village Park.  Old Timers said that this once had been a blacksmith shop, and had been run by a man named Jorgenson.
Okabena Progress
1902–Fred Ahrens started a hardware store.  That same year he built a large residence.
1903–McGlin Bros. build new elevator.
1904–Western Implement Co. was formed including Mr. Ahrens and several Heron Lake business men.  The engaged in the hardware and implement business until 1909, when the business was sold to Julius M. Johnson.  Later that same year he in turn disposed of it to the Okabena Hardware and Implement Co. with J. C. Ruthenbeck, President; August Atz, Secretary; and George Stephenson, Treasurer.
1906–First State Bank formed and a new building erected. A two story, four room frame school erected at present school site.
1908–John Albert's enters business here.
1909–The Hardware and Implement business was sold to Mr. Julius M. Johnson.
1909–Farmer's Co-op Elevator formed.
1912–Sontag Lumber purchased local yard.
1913–Lutheran Church building moved into town.
1914–New St. John's Lutheran Church built, former church becomes church school building.   Okabena Implement dissolves with John Ruthenbeck taking over the implement business.   August Atz starts the hardware store, and Theo Milbrath starts auto business.
1915–Old school moved to main street for town hall. School consolidation – school enlarged.
1916–Methodist Church built –  further consolidation – school burns down.
1917–New brick school is built.  New bank is erected on present site.  Brick and Tile Co. formed.
1918–Jackson County American Commercial Press formed
1920–Ruthenbeck Implement build brick building.
1921–B. F. Dannatt Grocery  store built.
This concludes the Okabena history as it is known for the "first half-century".
(Okabena's history was provided courtesy of the Okabena Centennial Edition of   The Okabena Press, Jackson County History Books, Jackson County Historical Museum and Tri-County News.)