Happenings 1940-1949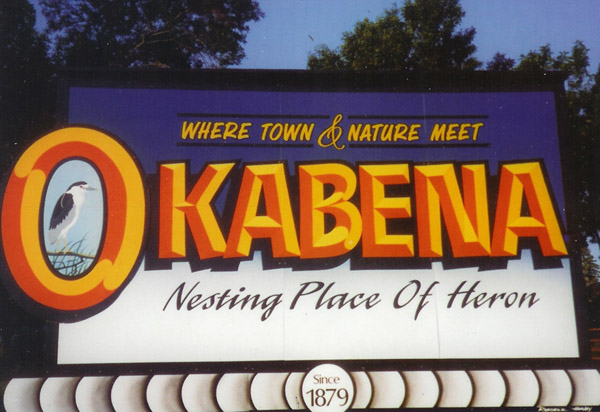 Business Census 1940's
Tire and Repair Shop-I. Bayerkohler
First State Bank
Okabena Co-op Creamery
Fleischmann Malting Company
Standard Oil Co. - C. C. Beseke
J. C. Ruthenbeck & Son
Lester Hotzler - Postmaster
Perks Place - E.C. Milbrath
August Atz Hardware
Hormel - Harm Saathoff
Paulson Grocery
Okabena Press
Dahl Store
L. C. Pietz Store
Okabena Auto Company
Luncheonette - Leo Snyder
Okabena Hotel
Carl Huebner – Dairy
A. E. Hyde – Barber
Farmer's Co-op Oil
Farmer's Co-op Elevator
Schulz Bros. – Truckers
Municipal Liquor Store
Sontag Lumber Company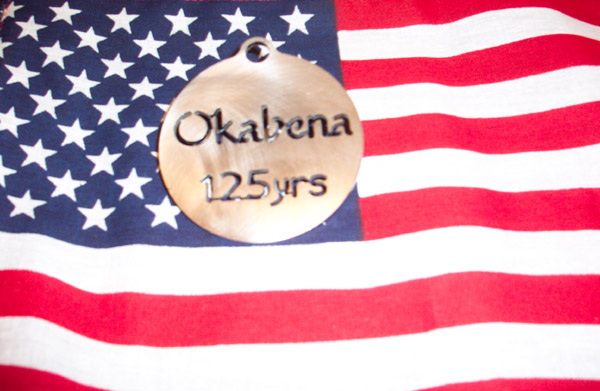 1941
Bluehawks down Heron Lake 38-14, Jeffers 39-9




Okabena Gun Club meets.




Okabena Spotlight, Mercella Becker, editor.




Alvin Bayerkohler, Florian Henrich, Clarence DeMoure, Arnold Baumgarn, Paul Schulz among first 100 Class IA.


Lakefield falls under Bluehawk Blitz.
Parade starts 4th of July Celebration.


Okabena wins sub district trophy.




Adolf Pomerenke's celebrate golden anniversary.




Okabena loses in finals of district to Jackson 38-35.




Band rates high at Worthington.




Okabena to have park playground.




Food stamp program launched.




Leslie and Marcella Becker valedictorian and salutatorian.




Bids asked for Okabena-Heron Lake road.




Give aluminum for your country's defense.
1942
Firemen sponsor waste paper, rubber and metal collections.
Victory Aids program for Okabena.
FFA holds first annual banquet.
40 mile speed hour order effective.
Air Raid Wardens Committee established.
Edw. Hotzler receives safety award from railroad.
H. Saathoff reports 411 hogs purchased for Hormel in one day.
Carl Huebner sells dairy business to Alvin Rients.
Parade starts 4th of July Celebration.

Blackout announced, reported 100% in Okabena.
Food for Victory agriculture course in school.
1943
Scrap metal drive nets over 40 ton locally.
James Hussong severely injured.
$216.00 collected for War Service Fund.
Severe blizzard early in November.
Another successful 4th of July celebration.

1944
Village over top in 4th War Loan Bond Drive.
Nels Gutteboe joins First State Bank staff.
Gentry Store sponsors kite contest. Jerry Mead wins 1st in class 1, Weldon Bayerkohler 1st in class 3.
Another successful 4th of July celebration.

A.H. Ohlsen and George Morrison drowning victims in Des Moines River.
Guy Paulson buys Dahl store and fixtures.
1945
Memorial service for Sgt. Raymond G. Sievert.
Gaylord Peterson killed in Belgium.
Senior class trip to Sioux Falls.
St. Paul's church observes 60th Anniversary.
Okabena over top in 7th War Loan Drive.
George Sievert, Theo. Milbrath, Arnold Heideman and Herman Kilker bus drivers for current year.
R. A. Becker celebrates 80th birthday.
Japan surrenders.
Parade starts 4th of July Celebration.

Robert K. Milbrath awarded air medal in India.
D. D. Rempel solicits for "Mail Call".
Adult evening classes at the school.
Village doubles Victory Loan quota.
Area receives 10 inches of snow.
1946
Hotel changes hands.




Francis Schear buys Luncheonette.




Dr. Chadburn dies.




Okabena wins sub district.




Community library opens in school.




Clifford Mansmith buys Luncheonette.




Herman Becker and Ott Mittelstadt in state finals for duck calling contest.




Junior class on educational tour of the Twin Cities.


Emelia Seydel appointed County 4-H leader.
Parade starts 4th of July Celebration.


Free movie every Tuesday night - July 16th: "The Prisoner of Zenda."
1947
American Legion Post

chartered January 22nd.
PTA meeting on "School Finances."
Division Creek Dam dynamited.
R. Bayerkohler and Vernon Behrens form partnership.
PTA recognized George Stephenson for 30 years as custodian.
New baseball field started.
Parade starts 4th of July Celebration.
Bill Duitsman sets record in 440 yard dash at county meet.
1948
Farewell party for Lester Hotzler's.
New school dedication at Rost.
Football team champs of Six Star League.
Legion to sponsor fox hunt.
Legion sponsors Bingo.
Parade starts 4th of July Celebration.
Dedicate lights at the Homecoming game.
1949
Earle Nelson named school superintendent. 
B. Scheppmann in fatal accident.
Parade starts 4th of July Celebration.
Ed Hotzler retires after 52 years service for Milwaukee railroad.
(Okabena's history was provided courtesy of the Okabena Centennial Edition of
The Okabena Press, Jackson County History Books, Jackson County Historical Museum and Tri-County News.)